The Facts on Monosodium Glutamate MSG
Monosodium Glutamate MSG, it's in almost all of our prepared and processed foods that we consume and buy every day. Could it be contributing to your weight gain or other health concerns?
What is Monosodium Glutamate?
Monosodium Glutamate MSG is a white crystalline compound used as a food additive to enhance flavor. Monosodium Glutamate, MSG is the sodium salt that has been extracted from glutamate. Glutamate is simply an amino acid that is found naturally in foods.
The manufacturing of MSG is done by a process of protein hydrolysis. Only if the product is 99% pure Monosodium glutamate, MSG, is it FDA required to be labeled as monosodium glutamate or msg. If it contains less than 99% of hydrolyzed protein, the FDA does not require that the MSG be identified. So you might see it listed as other names like autolyzed yeast, hydrolyzed soy protein, and sodium caseinate.
Introducing MSG
MSG was first patented by Ajinomoto Corporation of Japan in 1909. It was first introduced to the United States in 1947. From 1909 until the mid 1960s, it was prepared by the hydrolysis of wheat gluten, which is only 25% glutamic acid. Now it is commonly produced by fermentation of sugar, sugar cane, and sugar beets. I remember it as a product called "Accent" when I was growing up, I don't know if it's still on the market as I stopped using it decades ago.
Common Foods Containing
Monosodium Glutamate
Bouillion cubes
Meat tenderizers
Canned foods
Frozen foods
Potato & Snack chips
Barbecue Sauce
Salad Dressings
Soups
Most Fast Food
Low Fat Food (to make up for the lost taste)
Obesity Risks of
Monosodium Glutamate MSG
Because of the flavor enhancement that it provides, monosodium glutamate has been proven to cause people to ingest more food. The amount of MSG in food has been growing every year since 1948, and so has the amount of food that the average citizen consumes daily.
In addition to the desire to consume more food, it will cause weight gain. In fact, when research scientists want to do obesity studies using rats or mice, they feed them MSG which causes them to become obese (and blind too).
It can also cause the pancreas to increase its insulin output. When this happens, excess insulin in the blood will cause the body to store more fat. The excess insulin secretion caused by MSG also leaves feeling tired, drained, and hungry all over again, leading to more weight gain.
Dangers of Monosodium Glutamate MSG
MSG is known as an excitotoxin. They overexcite brain cells until they basically burnout and die. In other words, each serving of MSG or aspartame causes a little bit of brain damage everytime it's ingested. Unfortunately this creates a cumulative effect and can lead to neurological problems from headaches to seizures, abnormal neural development, learning disorders in children, diseases like ALS, Parkinson's, Alzheimer's and Huntington's, and more.
The Importance of Reading Labels
Now that you understand some of the health risks associated with the consumption of monosodium glutamate MSG, hopefully you will want to avoid buying these toxic foods. Ideally, eating fresh foods are best, but you will need to become a label reading detective when purchasing processed and packaged foods.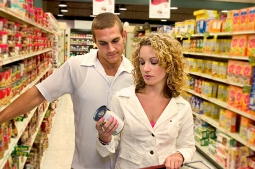 Look for these disguised names hidden on labels as
disodium inosinate
disodium guanylate
"spices"
" natural flavorings"
hydrolyzed vegetable protein
caseinate
calcium caseinate
autolyzed yeast extract
beef or chicken broth
It's almost impossible to keep up with all the name changes and the games that are played among the various food companies so eating fresh food (preferably local) is always your best choice, especially if you have a severe reaction to this product. If you want more information about deceptive labeling and testing for
monosodium glutamate MSG, click here. We encourage you to be a wise consumer so you can make healthy choices for your family. I hope we have inspired you to do your homework and learn more, there is a lot of information available on the internet.


Go To Nutrition Page.

Return To Toxins Page.

Go To HealthyChoices4Life Home Page.
New!

Comments

Let me know what you think! Please leave me a comment in the box below.