Making Healthy Choices,
One Step At A Time
This free newsletter is written to share tips, recipes and ideas on natural ways to keep yourself healthy.
If you like this e-zine, please "pay it forward" and share it with your friends and family. If this was forwarded to you and if you like what you read, please subscribe by visiting the Healthy Choices website.


October 2011, Issue #10
---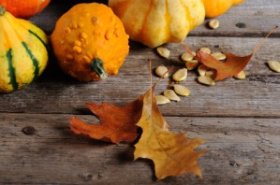 Healthy Fall Snack Choices
Now that October has arrived, tailgates, football games and Halloween parties are in full swing. Most social events involve food and you may be tempted to reach for the nachos, potato chips and candy corn. That's okay once in a while, but there are healthier fall snack choices that won't jeopardize your health or your weight.

There are lots of healthy options to choose from, but here are 4 healthy choices to get you started.

Sweet Potato Chips

Sweet potatoes are not only sweet and delicious but they are rich in betacarotene and vitamin C. Two very powerful anti-oxidants that work even better together to prevent cancer, regulate blood sugar levels, and boost your immunity. Sweet potatoes are loaded with fiber and will soon become one of your favorite healthy choice snack recipes that you'll turn to again and again. They are so easy to make and that even your kids can "help" you. Check out the recipe here.

Pumpkin Seeds

Who doesn't love toasted pumpkin seeds? If you're carving a pumpkin this year, don't throw out the seeds. Pumpkin seeds are one of the most nutritious foods you can eat since they are an excellent plant based source of Omega 3s.

If you've never toasted your own pumpkin seeds, you're in for a treat. Just rinse and clean off the seeds, then mix 1-1/2 cups of pumpkin seeds with 2 tablespoons of olive oil or some other nut or seed oil. Spread them on a cookie sheet and bake in a 300 degree oven for about 30 minutes. Season them with sea salt, or get creative by experimenting with seasonings like cayenne pepper, garlic salt, or cajun seasoning. A perfect "salty, crunchy" fall treat!

Apples

Crisp apples are at their best in fall. While a large bowl of apples on the table looks great, your apples will last much longer in the fridge or somewhere cool. There are countless healthy and dessert recipes that feature apples. Apples are rich in vitamins, fiber, and phytonutrients that work together to make apples a potent weapon in the fight against disease.

Apple pie is a favorite but for those of us wanting to lose weight, apple crisp might be a better option. There are so many delicious variations of apple crisp, just do an internet search and you'll find hundreds of recipes. However, if you have allergies this Apple Crisp recipe, is both egg and dairy free. However, if you have a gluten allergy, make sure you use a non-gluten flour and gluten free oats. Click here for the recipe.

Popcorn

I personally love to make my popcorn on the stove using coconut oil and plain old-fashioned popcorn. But I know many of you like the convenience of micro-wave popcorn. If so, don't buy the pre-packaged microwave popcorn ....make your own! Research shows that the micro-wave popcorn bags actually contain a chemical, PFOA (perfluorooctanoic acid also known as C-8), that is a known carcinogen.

Becoming healthy means finding ways to give our old favorites a healthy makeover and turn them into our new favorites. Just put some high quality popcorn kernels in a paper bag. Fold over the end and place it in the microwave. Cook on high about 3 minutes. Top with a little melted butter and sea salt. You can even add your own creative flair with seasonings like cayenne pepper, cinnamon, or garlic salt for a unique healthy snack.

I hope these 4 ideas will help you learn how to make healthy snack choices and still be able to enjoy all the fall festivities. It may take a little more time to prepare these foods but it's all about making healthy choices a priority in your life. When it comes to better health, it's worth the effort!

Make it a great day!

To Your Good Health,

Barb Hughesian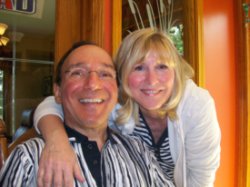 P.S. If you have a comment or questions, feel free to contact us by clicking here
---
Comments, ideas or feedback? I'd love to hear from you, just reply to this e-zine and tell me what you think!




New!

Comments Let me know what you think! Please leave me a comment in the box below.