Making Healthy Choices 4 Life
---
Small Steps, Sensible Choices, Superior Health!
---
January 2015, Issue #12
---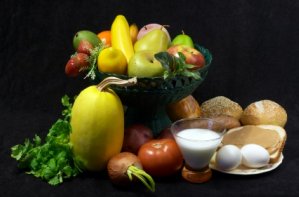 Avoiding The Fierce and Ferocious Flu
I know it's been awhile since I've sent anything out from Healthy Choices News and Views. But I'm back and I hope to help make your 2015 a little healthier.

This year's flu season roared in early and ferociously.

All we hear in the media is that everyone needs to get a flu shot.

But what you're not hearing is that according to the CDC:

"the drifted H3N2 viruses did not appear until after the vaccine composition for the Northern Hemisphere had been chosen"

In other words, the most predominant flu virus this season, wasn't included the current vaccine. Are all those vaccine supplies wasted now?

Nope, they are still recommending that we all get the flu shot in case the other viruses develop later in the season. You can learn more on the CDC website.

What To Do To Avoid The Flu

I don't believe in getting flu shots, no matter what they say. I don't agree with putting all those toxins in my body when there is another way.

We protect ourselves by purposely doing things that will boost our immune system.

Since we can't always control our circumstances or our environment, we need to focus on what we can control, and that's "us".

We are all born with certain genetic traits, sometimes called "your basic constitution". Some of us do have a stronger constitution than others.

But if you weren't blessed with a good set of genes, it doesn't mean you're destined to be sick all the time. You just need to work a little more at boosting your immune system.

Eighty five percent (85%) of your immunity comes from a healthy functioning gut (intestinal tract).

Ways To Boost Your Immune System:

Get plenty of rest. Your body restores, replaces and regenerates while you sleep. Missing necessary sleep only adds additional stress to your immune system.

Eat well. Increase your intake of anti-oxidant rich fruits and vegetables. Make soups from home-made bone broth, it's very healing to the gut and supportive to the immune system. Cut out the sugar as much as possible, it compromises your immune system.

Eat foods that contain probiotics

Foods like yogurt, with added live cultures and without sugar. Other probiotic foods like kefir, cultured veggies which include pickles, sauerkraut or kimchi.

You can find them in the refrigerated case at most health food stores. These foods contain immune boosting lacto bacillus bacteria. The other alternative is to take a probiotic supplement.

Drink plenty of water. It's preferable to drink purified water. Drinking lots of fruit juices or sugar laden drinks won't help your immune system, stick with water or herbal teas. It will help your body to flush out the toxins that are created in keeping you well.

Take supplements to boost your immune system. It's especially important during the flu season. Consider taking an all natural immune boosting supplement.

If you have a knowledgeable person at your local health food store, ask for a recommendation.

Or look for all natural supplements that include some of the following:

Vitamin D3
Elderberry
Echinacea
Golden Seal
Astragulus
Vitamin C (with bio flavanoids, not just ascorbic acid
Ginseng
Ginko Biloba
Garlic
Tumeric

Cod Liver Oil

Here's an option you'd probably not think of, but if you want to go all out, consider cod liver oil. I have been taking a tablespoon or so of fermented cod liver oil everyday for a couple of years now.

Hear me out before you turn up your nose ... it's in a base of coconut oil and comes flavored with caramel or other flavors. I know it sounds weird, but it is actually quite tolerable and I haven't been sick yet. If you want more information on this, feel free to contact me.

Hopefully these tips will help you dodge the flu bullet this year. See you next month.

To Your Good Health,

Barb Hughesian

Want to learn more tips on making healthy choices and check out our new "look", Please visit Healthy Choices 4 Life.

P.S. If you like this e-zine, please "pay it forward" and share it with your friends and family. If this was forwarded to you and if you like what you read, you can sign up here.

If you have a comment or questions, feel free to contact us by clicking here
---
Comments, ideas or feedback? I'd love to hear from you. Let us know what you'd like to learn more about. Just reply to this e-zine and tell me what you think!

To view Back Issues Click Here