Small Steps, Sensible Choices, Superior Health.

Artificial Sweeteners
Not So Sweet For Your Health

Search This Site:
The reports on artificial sweeteners admit to the dangers of aspartame and the negative side effects of sucralose.
It makes you wonder how they can be called "safe" by the FDA.
Artificial sweeteners were invented decades ago to help people with diabetes and those wanting to lose weight.
With all the dangers of aspartame and the unknown long term side effects of sucralose and Splenda, are they really helping us?
---
Saccharin, The Original Artificial Sweetener

For years the little pink packet of saccharin called, Sweet and Low, was the main artificial sweetener that most people used.  However, scientific testing reported that saccharin was found to cause bladder cancer in rats.
Due to its carcinogen warnings and unpleasant aftertaste, saccharin began to lose popularity as America's favorite of the artificial sweeteners.  Saccharin is still used by some people and is still in some prepared foods and over-the-counter medicines. 
Comparatively though, it has been around a long time but it has caused less problems than aspartame.
---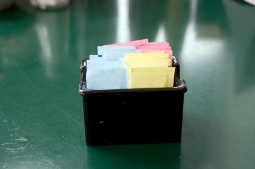 Dangers of Aspartame
Aspartame, more commonly known as NutraSweet and Equal, became the next popular choice in the artificial sweeteners market. 
Probably due to its relatively pleasing taste. It soon became the most widely used artificial sweetener.  It is found in nearly all diet beverages and sugar free food products. 
Then the dangers in aspartame quickly started to surface.  According to Dr. William Campbell Douglass, Aspartame is responsible for more FDA complaints than any other food additive. 
Some of the side effects of aspartame include:
headaches
dizziness
nausea
migraines
anxiety attacks
gastrointestinal discomfort
depression
skin rashes
It is known as an excitotoxin chemical that can lead to neurological diseases like Parkinson's, MS, Lupus, Alzheimer's and Fibromyalgia.  This toxic chemical basically causes an over excitement of the brain cells until they actually burn out and die.  Continued consumption results in cumulative brain damage.
---
Aspartame and Formaldehyde
Both US and European studies raise a serious formaldehyde concern.  Once consumed, the wood alcohol in aspartame is converted to formaldehyde which has a cumulative effect. 
This can cause damage to your immune and central nervous systems. The FDA feels the formaldehyde amounts are low enough and not a cause for concern. How comforting!
Fortunately there are natural sugar substitutes that you can switch to.  Most diet soft drinks still contain aspartame so you will need to read the labels carefully. If you're a big diet soda drinker and you haven't had any adverse symptoms yet, realize that it could take some time to develop.
Many healthcare professionals feel it is wise to avoid foods with aspartame. If you want further information or specific references, just go onto the internet, there is a load of information available.
---
Sucralose-Splenda, Not So Splendid
Then sucralose, more commonly known as Splenda, rose to the top of the artificial sweeteners list.  Advertised as being "real sugar that you can cook with", it became popular among diet conscious individuals and diabetics.
While not a scientific explanation, sucralose is a chemically altered, chlorine enhanced sugar (sucrose) molecule.  Since the sugar has been chemically altered, the body doesn't recognize it as food and doesn't absorb it.  Chlorine is toxic to the body and comes with its own list of side effects.
It started out as a pesticide!
Sucralose is a synthetic compound that was discovered quite by accident. In 1976 Britain scientists were trying to develop a new pesticide.  They accidentally discovered the sweet taste during one of the experiments. 
They decided to pursue this product as an artificial sweetener instead of a pesticide!  Apparently the artificial sweetener/weight loss industry was a much more profitable prospect than the pesticide industry.
---
Are Sucralose and Splenda Safe?
Since this is a newer product with no long-term studies, we just don't know how safe it is.  Initial studies done, by the manufacturer, on rodents, showed kidney and liver enlargement and diminished thymus glands.
At the time of this writing, there are no human studies available.  I suppose you could say, we are the long-term case studies for McNeil Nutritionals, the manufacturer of Splenda.
---
Side Effects of Sucralose
The reported side effects of Splenda are:
gastrointestinal discomfort
urinary problems
diarrhea
anxiety
muscle aches
flushing
dizziness
skin rashes
numbness

These are just reported complaints from users and there are no long-term studies at this time.  Many healthcare providers feel this is just another toxic poison and should be avoided.
---
Natural Sugar Substitutes
Xylitol and Stevia are two of the best natural sugar substitutes to use when trying to eliminate sugar from your diet.
Xylitol is most like regular sugar in taste and consistency.  Stevia, while natural, does have a little different taste and texture than sugar.
If you eat a lot of "sugar free" or diet foods, it's hard to avoid saccharin, aspartame and sucralose.  This is just another reason to eat more natural foods and less processed and packaged food. 
If you still feel you need the convenience of packaged food, shop at a health food store and read your labels carefully.  Usually you can find better packaged food choices there.
Giving up our sweet treats is a tough sell given our addiction to them. However, try to revise your recipes and make healthier sweetener choices.
In addition to xylitol and stevia, there are many natural sweeteners to choose from like, honey, agave nectar, sucanat, molasses, pure maple syrup. You can use them on cereals or cook with them.
Pure refined white sugar, is not a good choice, BUT if you are going to use it, make sure it is made from 100% pure cane sugar.  If it just says "sugar", it's most likely combined sugar cane and sugar beets and the sugar beets have probably been genetically modified (GMO).
If you're trying to lose weight or you are diabetic, natural sugar substitutes such as Stevia and Xylitol are worth trying.
---
Additional Resources
High Fructose Corn Syrup & Weight Gain
Dr. William Campbell Douglas, The Sweet Aspartame Scandal
---
---
---
Have you had any ill effects from artificial sweeteners?
Have you had an experience with artificial sweeteners that caused you to stop using them? If so, please share with us so we can learn from your experience.
What Other Visitors Have Said
Click below to see contributions from other visitors to this page...