Artificial Sweeteners
Not So Sweet For Your Health
The reports about artificial sweeteners find dangers in aspartame and negative side effects of sucralose. It makes you wonder how they can be called "safe" by the FDA.
Artificial sweeteners have been around for many decades and were invented to help people with diabetes and those wanting to lose weight.
However, with all the dangers in aspartame and the unknown long term side effects of sucralose and splenda, we really should look to more natural sugar substitues.
Saccharin
For years the little pink packet of saccharin called, Sweet and Low, was the main artificial sweetener that most people used. However, scientific testing reported that saccharin was found to cause bladder cancer in rats.
Due to its carcinogen warnings and unpleasant aftertaste, saccharin began to lose popularity as America's favorite of the artificial sweeteners. Saccharin is still used as an artificial sweetener by some people and is still in some prepared foods and over-the-counter medicines.
Comparatively though, it has been around a long time but it has caused less problems than aspartame.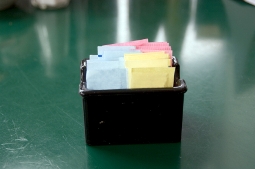 Dangers in Aspartame
Aspartame, more commonly known as NutraSweet and Equal, became the next popular choice in the artificial sweeteners market due to its relatively pleasing taste. It soon became the artificial sweetener found in nearly all diet beverages and sugar free food products. Then the dangers in aspartame quickly started to surface.
According to Dr. William Campbell Douglass, Aspartame is responsible for more FDA complaints than any other food additive. Some of the side effects of aspartame include:
headaches
dizziness
nausea
migraines
anxiety attacks
gastrointestinal discomfort
depression
skin rashes
It is known as an excitotoxin chemical that can lead to neurological diseases like Parkinson's, MS, Lupus, Alzheimer's and Fibromyalgia. This toxic chemical basically causes an over excitement of the brain cells until they actually burn out and die. Continued consumption results in cumulative brain damage.
Aspartame and Formaldehyde
Both US and European studies raise a serious formaldehyde concern. Once consumed, the wood alcohol in aspartame is converted to formaldehyde which also has a cumulative effect and can cause damage to your immune and central nervous systems. The FDA feels the formaldehyde amounts are low enough and not a cause for concern. How comforting!
Fortunately there are natural sugar substitutes that you can switch to. Most diet soft drinks still contain apartame so you will need to read the labels carefully. If you're a big diet soda drinker and you don't feel any adverse symptoms at this time, realize that it could take some time to develop, everyone is different.
Many healthcare professionals feel it is wise to avoid foods with aspartame. If you want further information or specific references, just go onto the internet, there is a load of information available.
Sucralose-Splenda, Not So Splendid
Then sucralose, more commonly known as Splenda, rose to the top of the list of artificial sweetners. Advertised as being "real sugar" that you can even cook with, it became popular among diet conscious individuals and diabetics.
While not a scientific explanation, sucralose is a chemically altered, chlorine enhanced sugar (sucrose) molecule. Since the sugar has been chemically altered, the body doesn't recognize it as food and doesn't absorb it. Chlorine is toxic to the body and comes with its own list of side effects.
It started out as a pesticide! Sucralose is a synthetic compound that was discovered quite by accident in 1976 by some scientists in Britain who were trying to develop a new pesticide. They accidentally discovered the sweet taste during one of the experiments and decided to pursue this product as an artificial sweetener instead of a pesticide! Apparently the artificial sweetener/weight loss industry was a much more profitable prospect than the pesticide industry.
Sucralose and Splenda, Is It Safe?
Since this is a newer product with no long-term studies, we just don't know at this time. Initial studies done by the manufacture on rodents showed kidney and liver enlargement and diminished thymus glands. However since no human studies are available I suppose you could say, we are the long-term case studies for McNeil nutritionals, the manufacturers of Splenda.
Side Effects of Sucralose
Reported side effects of Splenda the reported side effects are:
gastrointestinal discomfort
urinary problems
diarrhea
anxiety
muscle aches
flushing
dizziness
skin rashes
numbness
While these are just reported complaints and there are no long-term studies at this time, many healthcare providers feel this is just another toxic poison and should be avoided.
Natural Sugar Substitutes
Xylitol
and Stevia are two of the best natural sugar substitutes to use when trying to eliminate sugar from your diet.
Xylitol
is most like regular sugar in taste and consistency. Stevia, while natural does have a little different taste and texture than sugar.
If you're a big consumer of "sugar free" or diet foods it'll be hard to avoid saccharin, aspartame and sucralose. This is just another reason to eat more natural foods and less processed and packaged food. If you still feel you need the convenience of packaged food, shop at a health food store and read your labels. Usually you can find better packaged food choices there.
Giving up our sweet treats is a tough sell given our addiction to them. However, try to revise your recipes and make healthier sweetener choices. In addition to xylitol and stevia, there are many natural sweeteners to choose from like, honey, agave nectar, sucanat, molasses, pure maple syrup. You can use them on cereals or cook with them.
Pure refined white sugar, is not a good choice, BUT if you are going to buy it, make sure it is made from 100% pure cane sugar. If it just says "sugar", it's most likely combined sugar cane and sugar beets and the sugar beets have probably been genetically modified. If you're trying to lose weight or you are diabetic there are natural sugar substitutes such as Stevia and Xylitol that you might find helpful.
Have you had any ill effects from artificial sweeteners?
Have you had an experience with artificial sweeteners that caused you to stop using them? If so, please share with us so we can learn from your experience.
What Other Visitors Have Said
Click below to see contributions from other visitors to this page...

Splenda Caused 14 months of Sickness

I had used Splenda for many years and thought that it was OK and "healthy" to use. I started experiencing severe light-headedness. It would only last …
Abdominal Cramping And
Excessive Gas From Using NutraSweet

When my husband was diagnosed with Diabetes, we started using artificial sweeteners and almost immediately I began to have excessive gas, and abdominal …
Migraines From Artificial Sweeteners

Visitor Sucralose Question: I get migraines from sweet n low, aspartame....etc. I just started on a diet with Dr's Quick Weight Loss and I noticed …
Heart Palpitations From Diet Soda

I am a 42 year old female and I used to be a Diet soda drinker for years. About 5 years ago I started having heart palpitations and a racing heart. …
Glucosamine Replacement
Side Effects

For a long time I had been taking Melrose's Glucosamine for Vegans for arthritis. But I was not keen on the taste and found it gave me lots of gas. So …
Aspartame Poisoning
Stole 20 Years of Good Health

I suffered for over 20 years with aspartame poisoning. My health symptoms started shortly after I started using the product back in the early 1980's. …
Warning about Stevia Not rated yet
I had a rapid onset reaction to stevia in the form of severe sinus congestion. I looked online to try and figure out why and if the stevia was the cause. …
Stopping Artificial Sweeteners Stopped Seizures Not rated yet
I had been having complex-partial seizures for at least 3-4 yrs with some relief from meds but no explanation. I was seeing a physical therapist for another …
Sensitive to all
Non-Sugar Sweeteners! Not rated yet
Aspartame gives me migraines. I can have it in small amounts (mints or gum), but diet sodas are out of my diet. Sucralose gives me facial/mouth itching, …
Bad Reaction to
Artificial Sweetener Not rated yet
When artificial sweeteners came out I thought I was in heaven. "Sugar free" this and that...brilliant I could finally shift some excess weight. I bought …
Aspartame Affected My
Speech and Memory Not rated yet
I used to consume a small box of Ricola sweets with the artificial sugar aspartame for almost everyday for 2-3 years to eliminate bad breath, as I work …
Sucralose & Kidney Stones? Not rated yet
I'm a 64 year old and tried using the sucralose sweetened Atkins Peanut Butter Chocolate Cups and sucralose coffee sweeteners. I have a history …
Anxiety and Aspartame Not rated yet
I developed full blown anxiety which eventually included an abundance of drugs happily supplied by my doctor. That experience was a nightmare of constantly …
The Real Truth About
Aspartame Side Effects
Not rated yet
Aspartame is among the most highly contested synthetic glucose substitute. It had been originally approved by the Food and Drug Administration in 1974 …
The Lingering After Taste Not rated yet
Have you noticed the long after taste that goes with all artificial sweeteners?
Aspartame Anxiety Not rated yet
I ate a small container of yogurt one evening. The yogurt was not the usual brand I buy. A few hours later at bedtime, I felt jittery, a little weak and …
78 Yr. Old Male
Ditches Artificial Sweeteners For Better Health Not rated yet
I have used artificial sweeteners for a long time...mostly "Sweet & Low" at home and other brands when my choice was not available (like at restaurants …
Diabetic Uses Natural Sweetners From Stevia Leaves Not rated yet
I am a diabetic patient. I face the problems of glucose level fluctuation due to irregular sugar consumption. However, someone suggested to me that …
Aspartame Causes PMS Not rated yet
At 16, I was fed up with my chubby figure, so I switched from regular Coke to Diet Coke.I was never a fan of the aftertaste of diet, but zero calories …
I Thought I Was Getting Arthritis Not rated yet
For the past 3-4 years I have been using Sweet N Low and Splenda. I had a cold sore on my bottom lip that became infected. I went to the doctor 4-5 five …
Nutrasweet/Equal Caused
Migraines & Vision Problems Not rated yet
I was caught up in the craze to try this artificial sweetener when it was first advertised. One of the things I noticed about my use of Nutrasweet, or …
Diet Soda Isn't
The Answer To Weight Loss Not rated yet
After consuming Diet Coke for several years I was not only gaining weight but a bloated belly and face too. I started drinking diet sodas to lose weight. …
Aspartame Reactions Not rated yet
I realized a long, long, time ago that aspartame gave me a headache. I would get a weird, tingly and picky sort of feeling in my face, neck and head. …

For more information about Stevia click here.


Leave Art. Sweeteners Page, Return to Toxins Page Leave
Artificial Sweeteners Page and Go to Healthy Choices Home Page